Closing the training and knowledge gap in ICT Accessibility
With a view to fostering the integration of ICT Accessibility in education and training programmes addressing diverse audiences, Mada ICT Accessibility and Inclusive Design ICT-AID competency framework can be used as a tool to guide professional education services, universities and individuals on delimiting the required relevant competencies in ICT accessibility. Mada ICT-AID competency framework, as an open framework available in open access under Attribution-ShareAlike 4.0 International (CC BY-SA 4.0), can be adapted for use in different learning contexts and modes, and availed to develop, describe and publish ICT-AID aligned resources in courseware repositories.

Mada ICT-AID Competency Framework
ICT accessibility and inclusive design is considered as a relevant and essential topic that needs to be well covered and integrated within capacity building, training and education curricula and programmes. Despite this urgent need, there is a lack of integration of ICT-AID aligned courses in educational institutions and professional development services  based on a comprehensive Global competency framework delimiting all required relevant competencies and capabilities in the field of ICT accessibility and Inclusive Design. It is in this context that Mada center has developed an open competency framework in a bid to guide globally training of students and workers on ICT accessibility and inclusive design, so that they will be well prepared to excel in their accessibility professions and contribute in the creation of accessible products, contents and services.
Interested in partnering on ICT-AID?
Educational Institutions that are interested in Mada ICT-AID competency framework and ready to adopt the framework for designing, structuring, and curating learning and training content in the field of ICT accessibility
Mada ICT-AID on OER Commons
Mada ICT Accessibility and Inclusive Design competency framework is now featured as a new standard available to users of the OER Commons digital library and collaboration platform. As a standard, Mada ICT-AID will be used to index and describe ICT-AID aligned educational resources providing accordingly ease of access and retrieve of these resources. As such, the ICT-AID competency framework will be used for searching, aligning and evaluating Open Educational Resources serving globally learners and educators.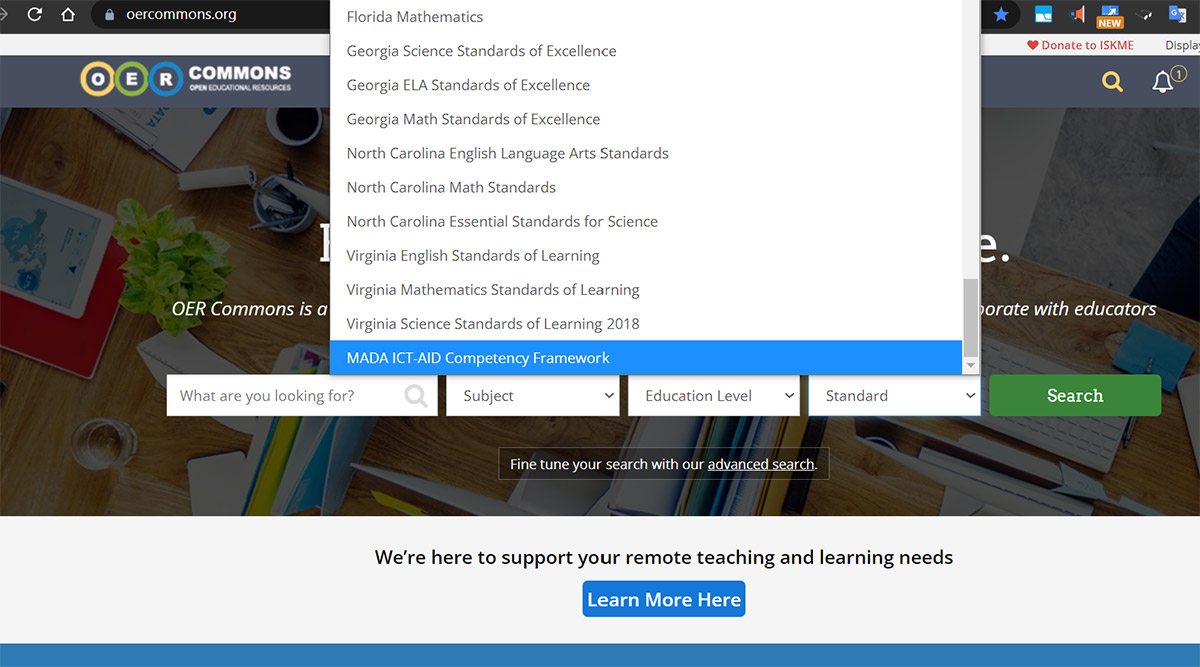 Mada ICT-AID Working Group
It is essential that peoples in Qatar and beyond, acquire the required competencies to use and develop universally accessible ICTs, in particular in Arabic language, as well as appropriate assistive technologies, and make it part of their professional practices towards maintaining an inclusive workplace, and bridging the digital divide and making ICTs accessible to every user, so that no one will be left behind.
Mada ICT-AID Competency Framework OER Hub
As part of its endeavors to enabling equal opportunities for all to access education and to fostering lifelong learning harnessing the power of ICT and the tremendous potential of Open Educational Resources OER, Mada launched the "Mada ICT-AID Competency Framework OER Hub" to be the Mada branded Hub on OER Commons where ICT-AID aligned OER are aggregated, curated and managed through collections, and groups, and development tools. The community of inclusive education and ICT accessibility experts, advocates, educators and learners can discover ICT-AID aligned open content, and connect with others to improve inclusive practices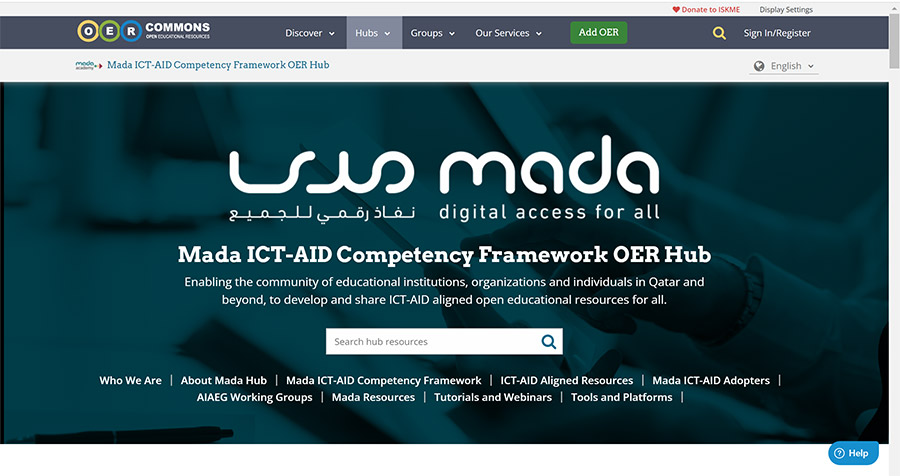 Implementation of the 2019 Recommendation on OER
Recognizing the pivotal role that Open Educational Resources OER have, providing equally effective access to learning opportunities for all, Mada has joined the growing worldwide OER movement and pledges as such to promote OER accessibility harnessing the power of inclusive ICTs so that educational resources are accessible for all.
In this regard, Mada has taken several measures to contribute in the implementation of the 2019 conventions and recommendations of OER aiming at supporting the following main 5 areas of actions: (i) Building capacity of stakeholders to create, access, re-use, adapt and redistribute OER ; (ii) Developing supportive policy ; (iii) Encouraging effective, inclusive and equitable access to quality OER; (iv) Nurturing the creation of sustainability models for OER; (v) Promoting and reinforcing international cooperation.
Mada Academy is coming Soon !
Mada Academy is the Mada premium training hub that aims at empowering people and institutions, and improving lives through engaging and inspiring training and capacity development for all. Mada Academy delivers quality accessible online and blended training activities, in a wide range of Cutting-Edge topics, with a focus on information and communication technologies (ICTs) and digital inclusion, as well as tutoring and support services, and certificates of completion.